A New Way To Get More Reviews Instanly
Award Winning Collection of Digital Business Review Cards, Follow Us and Stickers for signage.
Each of our One Tap NFC Cards is equipped with state-of-the-art Tap-to-Share NFC Technology.
Our fully personalized items harness the power of NFC technology, allowing instant data sharing to any smartphone with a simple tap. Compatible with both Apple and Android – no apps, no subscriptions.
Get 5-star reviews in just 4 seconds!
Getting new followers and positive Google reviews has never been this simple.
At OneTap Review, we pride ourselves on our extensive experience in building fan bases and generating online feedback, especially on Google. We provide straightforward solutions to help you swiftly garner superior reviews from your clientele, increase your follower count, and empower your customers to become your most impactful marketing asset. The outcome? An influx of clients, a boost with Google online presence and more sales!
Your business thrives on the feedback of your customers. You engage with your clientele daily. Seize the chance to seek their insights.
Many customers refrain from leaving reviews either due to time constraints or uncertainty about where and how to share them online.
Our NFC-enabled cards streamline this process. Designed with user-friendliness in mind, they guide your customers directly to the review platform, making it effortless for them to share their experiences. By simplifying the review process, we help you capture genuine feedback more frequently, driving your business towards greater success.
Product Features
Our 'Review' and 'Follow Us' cards are crafted with premium materials and integrate the most advanced NFC and QR code technologies.
Increase reviews in seconds
sustainable business where a tree is planted for every Product sold
Preconfigured to be used instantly
Shop NFC Proximity Marketing Tags
Browse our products for the quickest way to boost your online presence on Google, Facebook, Instagram, Tripadvisor and more.
The success of your business or profile depends
on your customers Reviews
Simplified Feedback Process
Using our 'Review' and 'Follow Us' cards eliminates the hassle for customers, streamlining their review journey. A simple tap or scan is all it takes, ensuring more people complete their reviews.
Increased Engagement Rates
These cards act as a tactile reminder for customers, prompting more immediate and frequent interactions. This hands-on approach can lead to better engagement rates compared to digital prompts alone.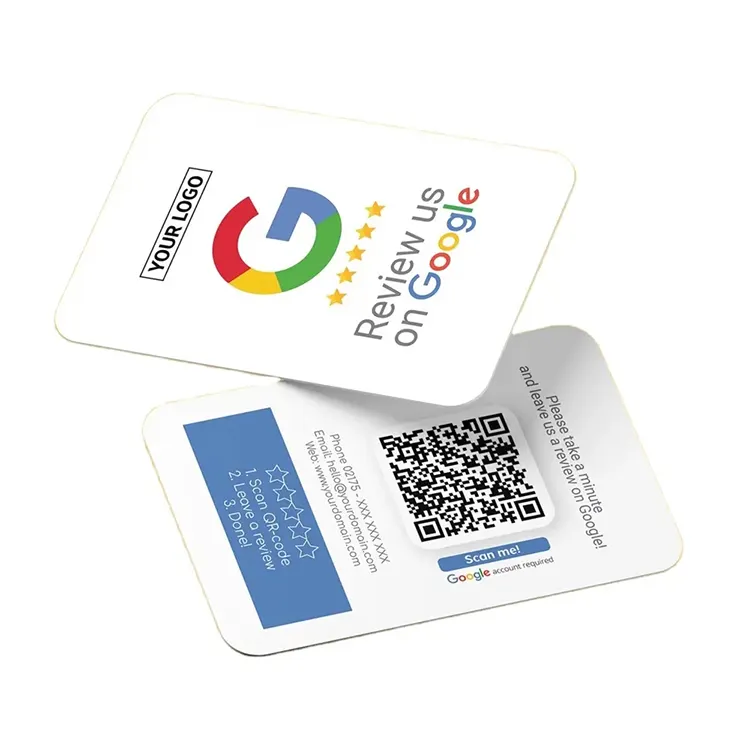 Easy to connect. Simple to control.
Enhanced Credibility & Trust
Positive reviews boost your business's reputation. By making the process more accessible, you're likely to garner more positive feedback, enhancing the trust potential customers have in your brand.
Cost-effective Marketing Tool
Each card serves as a compact yet effective marketing tool, combining modern technology with tangible interactions. This results in a cost-effective method to amplify online presence and foster organic growth. Get an unlimited collection of reviews and followers from every instant tap.